15.6 inča Univerzalni Portabl Monitor, 1920×1080 Full HD, IPS, HDMI/Type-C, ugrađena baterija, osetljiv na dodir
25,590.00 RSD (Sa PDV-om)
Samo 1 je preostalo na zalihama
Opis
SKU: 16549
Part Number: 15.6inch FHD Monitor (for EU)
Brand: Waveshare
15.6inch Universal Portable Touch Monitor, HDMI/Type-C Port, 1920×1080 Full HD, IPS Screen, Various Devices Support
Napomena: Zaštitna futrola nije uključena uz ovaj proizvod, ukoliko Vam je potrebna možete je posebno dokupiti.
15.6″ Touch Monitor
Size

15.6″

Resolution

1920×1080

Display Port

Type-C/HDMI

Display Panel

IPS

Viewing Angle

178°

Touch Type

Capacitive

Touch Points

10-Points

Touch Port

Type-C/USB

Touch Panel

Toughened Glass
Display Feature

High Dynamic Range

OSD Menu

Brightness/Contrast

USB Extension

External Devices

Sound

Hi-Fi Speaker

Audio Output

3.5mm Jack
Big Battery

10000mAh

Gaming

Xbox360/PS4/Switch

Smartphone

Huawei/Samsung…

Enclosure

Polycarbonate
Device & System Support
Raspberry Pi
Supports Raspbian, 10-points touch, driver free
Supports Ubuntu / Kali / WIN10 IoT, single point touch, driver free
Supports Retropie, driver free
Supports all versions of Raspberry Pi
Jetson Nano
Supports Ubuntu, single point touch, driver free
PC
Supports Windows 10 / 8.1 / 8 / 7, 10-points touch, driver free
Game Console
Xbox360, PS4, Switch…
Smartphone
Huawei, Samsung, OPPO, LG, HTC…(mirror cast)
Connection Examples
Working with Raspberry Pi 4

Working with Raspberry Pi 3B+
Working with Raspberry Pi Zero W
Working with AI Computer Jetson Nano
Working with Full-Featured Type-C mini PC
Working with Full-Featured Type-C Smartphone
Display Panel
IPS Panel
HDR Feature
HDR (High Dynamic Range) technology, delivering more realistic and colorful visual effect

Touch Control
1) up to 10-points touch, depending on the operating system. 2) up to 6H hardness toughened glass panel.
Audio Feature
Enjoy Gaming

Full-Featured Type-C Port
Audio and video transmission in one connection
One cable is just enough for either computer dual-screen OR Smartphone mirror cast
Big Battery Inside
Embedded 10000mAh Battery, enables 3-4h battery life, ideal for travelling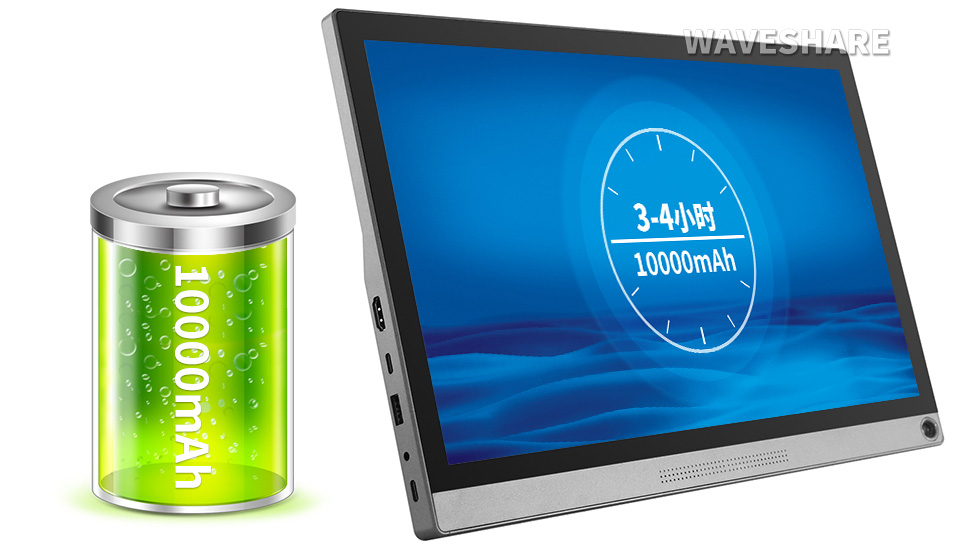 Appearance and Dimensions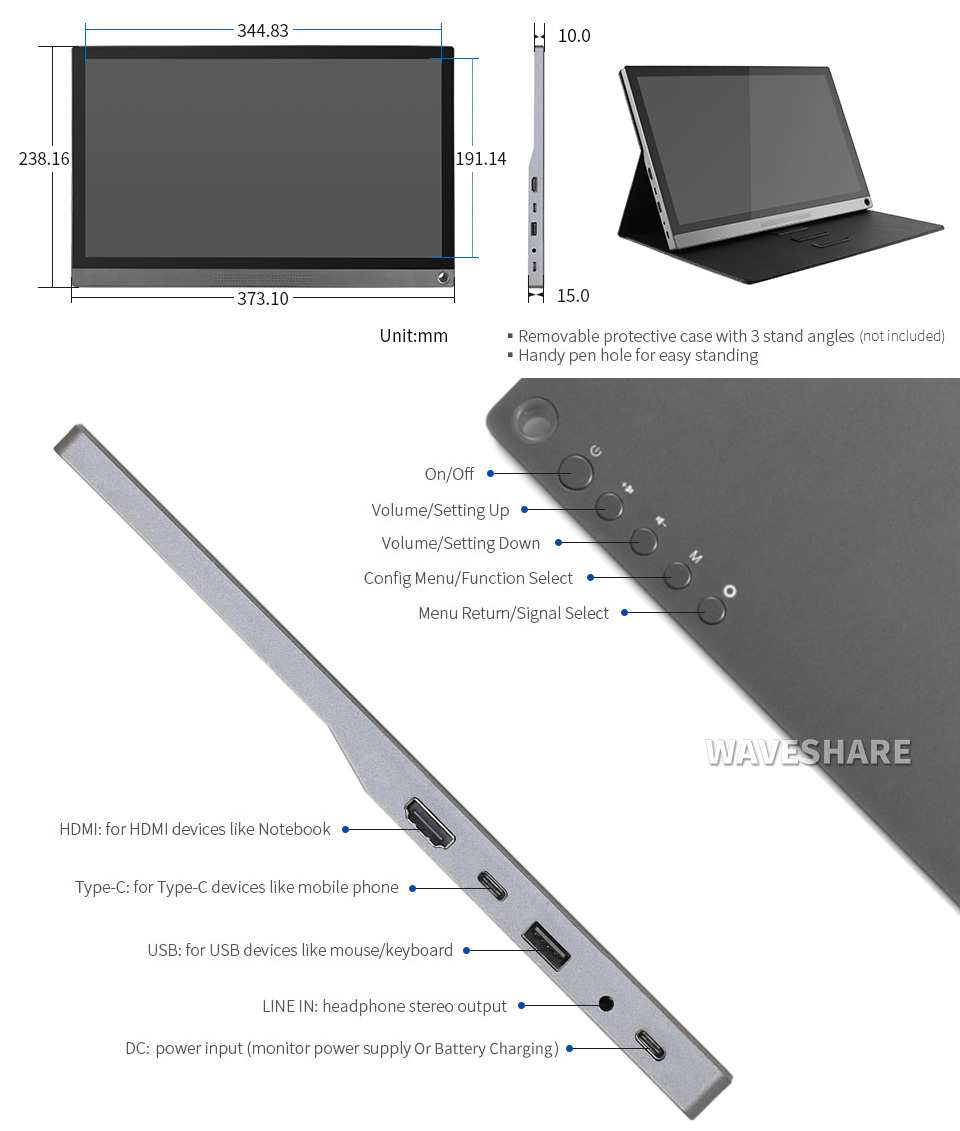 Applicability
(including but not limited to)
Category
Compatibility
mini PC
Supports popular mini PC like Raspberry Pi, Jetson Nano, BB Black, etc.
When working with Rasperry Pi, supports Raspbian/Ubuntu/Kali/Retropie/WIN10 IoT, driver free
PC
Supports desktop computers with HDMI port
Supports Windows 10/8.1/8/7, 10-points touch, driver free
Notebook
Apple
MacBook 12″, MacBook Pro, MacBook Air, iPad Pro 2018
HUAWEI
MateBook, MateBookX, MateBookXPro, MateBookE
Honor
Magic
MI
Air 12.5/13.3″, Pro15.6″, MI gaming laptop
Lenovo
Yoga5 Pro, ThinkPad_XI Carbon 2017, Miix 720
HP
Pavilion x2, EliteBook Folio G1
DELL
XPS13, XPS15
Google
ChromeBook Pixels, PielBook Pen
Razer
Blade/Blade Stealth
Microsoft
Surface Book 2
ASUS
ZenBook3, U306, U321 series, U4100, ROG series
Smartphone
HUAWEI
Mate10, Mate10 Pro, Mate20, Mate20 Pro, Mate20 X, P20, P20 Pro
Honor
Note10, Magic 2, V20
HTC
U Ultra
LG
G5
Razer
Razer Phone, Razer Phone 2
ASUS
ROG gaming phone
OPPO
R17 PRO
Samsung
S8, S8+, S9, S9+, S10, Note8, Note9
Resources & Services

Package Content
Deklaracija
Šifra: w16549
Naziv: 15.6 inča Univerzalni Portabl Monitor, 1920×1080 Full HD, IPS, HDMI/Type-C
Vrsta: Waveshare
Zemlja porekla: Kina
Zemlja uvoza: Kina
Uvoznik: MALINA 314 doo, Beograd
Telefon: 061-640-2013
Samo prijavljeni korisnici koji su kupili ovaj proizvod mogu ostaviti komentar.