2-CH Izolovani CAN HAT za Raspberry Pi
2,290.00 RSD (Sa PDV-om)
Nema na stanju
Opis
SKU: 17912
Part Number: 2-CH CAN HAT
Brand: Waveshare
2-Channel Isolated CAN Bus Expansion HAT For Raspberry Pi, MCP2515 + SN65HVD230 Dual Chips Solution, Multi Onboard Protection Circuits
2-Channel CAN HAT 
For Raspberry Pi
2-Channel Isolated CAN Bus Expansion, Multi Onboard Protection Circuits
Comes with manual and examples in C / Python
What Can It Do?
Enable Isolated And Stable CAN Bus Capability For Your Raspberry Pi
Designed For Raspberry Pi Series
Standard Raspberry Pi 40PIN GPIO Header, Customized For Raspberry Pi Series Boards
FEATURES AT A GLANCE
Adopts MCP2515 and SN65HVD230 dual chips combined solution, allows 2-channel CAN communication
Integrated power isolation, providing stable isolated voltage, requires no extra power supply for the isolated terminal
Onboard digital isolator, signal isolation makes the communication more safe, more stable, and better anti-interference
Onboard TVS (Transient Voltage Suppressor) diode, provides ESD protection and transient peak voltage protection
Onboard voltage translator, select 3.3V/5V operating voltage by jumper
Onboard 120Ω terminal resistor, configured by jumper
Breakout SPI control pins, for connecting with host control boards like STM32/Arduino
2-Channel CAN Capability
MCP2515 CAN Controller + SN65HVD230 CAN Transceiver
Electrical Isolation Circuitry 
Safe & Stable
SM24CANB TVS Diode, ESD Protection, Transient Peak Voltage Protection
Flexible And Handy Jumpers
Easily Select 3.3V / 5V Operating Voltage, Or Enable/Disable 120Ω Terminal Resistor, Via Onboard Jumpers
What's On Board
MCP2515 CAN controller
SN65HVD230 transceiver
SI8642ED digital isolator
RT9193-33 power chip
B0505LS-1W power supply isolation module
SM24CANB TVS diode
Standard Raspberry Pi 40PIN GPIO header
CAN bus screw terminal
MCU control pins
120Ω terminal resistor switch
3.3V/5V logic level switch
Power indicator
Pinout Definition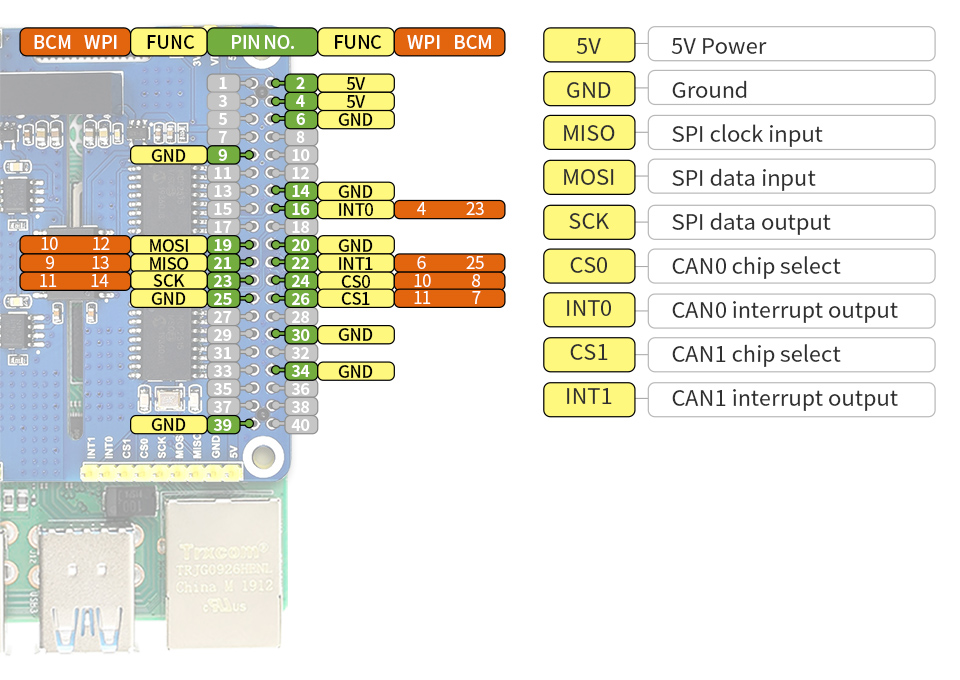 Specifications
| | | | |
| --- | --- | --- | --- |
| CAN CONTROLLER | MCP2515 | POWER SUPPLY VOLTAGE | 5V |
| CAN TRANSCEIVER | SN65HVD230 | LOGIC LEVEL VOLTAGE | 3.3V/5V |
| CONTROL BUS | SPI | DIMENSIONS | 65 × 56.5(mm) |
Outline Dimensions
Resources & Services


Comes with manual and examples in C / Python
---
* Resources for different product may vary, please check the wiki page to confirm the actually provided resources.
Deklaracija
Šifra: w

17912
Naziv: 2-CH Izolovani CAN HAT za Raspberry Pi
Vrsta: Waveshare
Zemlja porekla: Kina
Zemlja uvoza: Kina
Uvoznik: MALINA 314 doo, Beograd
Telefon: 061-640-2013
Samo prijavljeni korisnici koji su kupili ovaj proizvod mogu ostaviti komentar.