Ekran 10.1 inča (B), HDMI, za Raspberry Pi (LCD displej 10.1"), 1200×800, osetljiv na dodir, sa kućištem
16,590.00 RSD (Sa PDV-om)
2 na zalihama
Opis
SKU: 11769
Part Number: 10.1inch HDMI LCD (B) (with case) (for Europe)
Brand: Waveshare
IPS, 1280×800, 10.1 inch Capacitive Touch Screen LCD, Supports Multi mini-PCs, Multi Systems, Comes with EU plug power adapter
10.1″ HDMI Touch Display
Size

10.1″

Resolution

1280×800

Display Port

HDMI

Display Panel

IPS

Viewing Angle

170°

Touch Type

Capacitive

Touch Points

10-Points

Touch Port

USB

Touch Panel

Toughened Glass
Consumption

Low Power

Enclosure

Acrylic
Device & System Support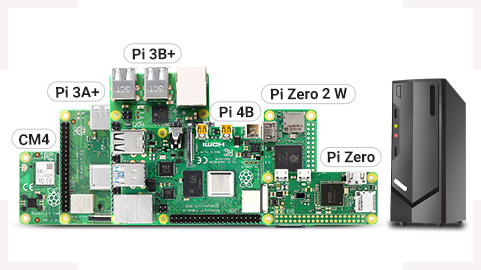 Raspberry Pi
Supports Raspbian, 10-points touch, driver free
Supports Ubuntu / Kali / WIN10 IoT, single point touch, driver free
Supports Retropie, driver free
Supports all versions of Raspberry Pi
PC
Supports Windows 10 / 8.1 / 8 / 7, 10-points touch, driver free
Connection Examples
Working with Raspberry Pi 4
Working with Raspberry Pi 3B+
Working with Raspberry Pi Zero W
Working with mini PC
Display
IPS Panel
Touch Control
1) up to 10-points touch, depending on the operating system. 2) up to 6H hardness toughened glass panel.
Appearance and Dimensions
The LCD and Control Board
IPS screen,1280×800 hardware resolution
Toughened glass capacitive touch panel, 6H hardness
Supports popular mini PCs such as Raspberry Pi, BB Black, as well as general desktop computers

When works with Raspberry Pi, supports Raspbian/Ubuntu/Kali/Retropie/WIN10 IOT, driver free
When work as a computer monitor, supports Windows 10/8.1/8/7, ten-points touch, and driver free

HDMI interface for displaying, USB interface for touch control
Supports 5-level backlight adjustment
Note: to use the LCD with following mini-PCs, additional cables are required and should be purchased separately:
Raspberry Pi Zero: HDMI cable, USB-type-A-receptacle-to-Micro-B-plug-cable
BB Black: HDMI cable
The Case
Material : high quality black Acrylic
Comes with back holder, 45° tilt angle
Features mounting holes for Raspberry Pi 4B/3B+/3B/2B/B+/A+/B, BB Black, Banana Pi
Package Content
Weight: 0.851 kg
10.1inch HDMI LCD (B) (with case) x1
Back stand x1

OPTIONS

Power adapter x1
HDMI cable x1
HDMI to Micro HDMI Adapter x1
USB-A to Micro-B cable x1
Screws pack x1
Quick start sheet x1
deklaracija
| | |
| --- | --- |
| Šifra: | w11769 |
| Naziv: | Displej 10.1 inča |
| Vrsta: | ekran |
| Zemlja porekla: | Kina |
| Zemlja uvoza: | Kina |
| Uvoznik: | MALINA 314 doo, Beograd |
| Telefon: | 061-640-2013 |
Samo prijavljeni korisnici koji su kupili ovaj proizvod mogu ostaviti komentar.