Ekran 10.1 inča (E), HDMI, IPS, (LCD displej 10.1"), 1024×600, osetljiv na dodir
Opis
SKU: 18096
Part Number: 10.1inch HDMI LCD (E)
Brand: Waveshare
10.1inch Capacitive Touch Screen LCD (E), 1024×600, HDMI, IPS, 10-Points Touch, Fully Laminated Screen, Supports Raspberry Pi, Jetson Nano, and PC
10.1″ HDMI Touch Display
Size

10.1″

Resolution

1024×600

Display Port

HDMI

Display Panel

IPS

Viewing Angle

170°

Touch Type

Capacitive

Touch Points

10-Points

Touch Port

USB

Touch Panel

Toughened Glass

Touch Panel Tech

Fully Laminated

OSD Menu

Brightness/Contrast

Audio Output1

3.5mm Jack

Audio Output2

4PIN Header

Gaming

Xbox360/PS4/Switch
Device & System Support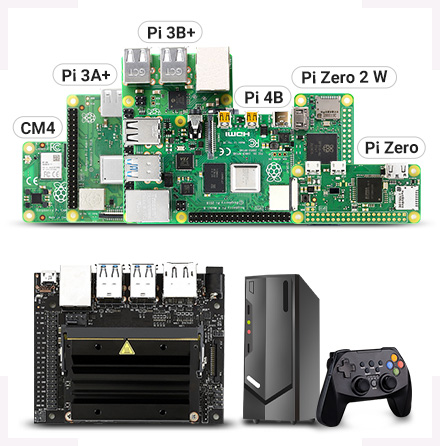 Raspberry Pi
Supports Raspbian, 10-points touch, driver free
Supports Ubuntu / Kali / WIN10 IoT, single point touch, driver free
Supports Retropie, driver free
Supports all versions of Raspberry Pi
Jetson Nano
Supports Ubuntu, single point touch, driver free
PC
Supports Windows 10 / 8.1 / 8 / 7, 10-points touch, driver free
Game Console
Xbox360, PS4, Switch…
Connection Examples
Working with Raspberry Pi 4
Working with Raspberry Pi 3B+
Working with Raspberry Pi Zero W
Working with AI Computer Jetson Nano
Working with mini PC
Display
IPS Panel
Touch Control

1) up to 10-points touch, depending on the operating system. 2) up to 6H hardness toughened glass panel. 3) fully laminated screen, better display experience, dust-proof.
Enjoy Gaming

* audio output from earphone jack and speaker header.
Appearance and Dimensions
Package Content
Deklaracija
Šifra:
Naziv:
Vrsta:
Zemlja porekla:
Zemlja uvoza:
Uvoznik:
telefon:
Samo prijavljeni korisnici koji su kupili ovaj proizvod mogu ostaviti komentar.