HiFiBerry AMP2
9,090.00 RSD (Sa PDV-om)
3 na zalihama
Opis
The HiFiBerry Amp is a high-quality, highly efficient Class-D power amplifier for the Raspberry Pi.
Mount it onto the Raspberry Pi and you have a stereo audio system. You only have to connect your loudspeakers. It provides up to 60W power. You only need a single 12-24V power supply to power the Raspberry Pi and the Amp2. With 4 Ohm speakers, we recommend 12-18V. Higher operating voltages are only recommended with 8 Ohm speakers. However, even with 8 Ohm speakers an 18V power supply is the best choice in our opinion.
It powers the Raspberry Pi, there is no need to add an external 5V power supply to the Raspberry Pi.
The Amp2 is designed to work with all speakers or 4-8 Ohm impedance. It supports sample rates from 44.1-192kHz (16-32bit).
The speaker connections are the similar as on the Amp+. Note that the polarity of one channel is reversed compared to the Amp+. Check the prints on the PCB for the correct polarity!
If the software you're using doesn't provide the Amp2 as an output option, you should use the HiFiBerry DAC+ driver as the Amp2 is basically a DAC+ with an integrated power stage.
The Amp2 integrated voltage converter is powerful enough to power even the new Raspberry Pi 4. Just note that it is not designed to power additional power-hungry USB devices or other hardware. There isn't a problem with low-power devices like mice, keyboards and similar. There might be even enough power for external hard disks, but the system might become unstable if too much additional current is drawn from the USB boards or the 5V rail on the GPIOs.
AMP+: CONNECTING POWER SUPPLY AND SPEAKERS
This is an archived documentation. It won't be updated anymore and it might not be accurate anymore.
The HiFiBerry Amp+ will be mounted on top of the Raspberry Pi. The Raspberry Pi will be powered by the Amp. It is not allowed to connect 5V to the Micro-USB port of the Raspberry Pi. Power supply is only one external 12-18V power supply that will be connected directly to the HiFiBerry Amp. Check out the connection diagram below.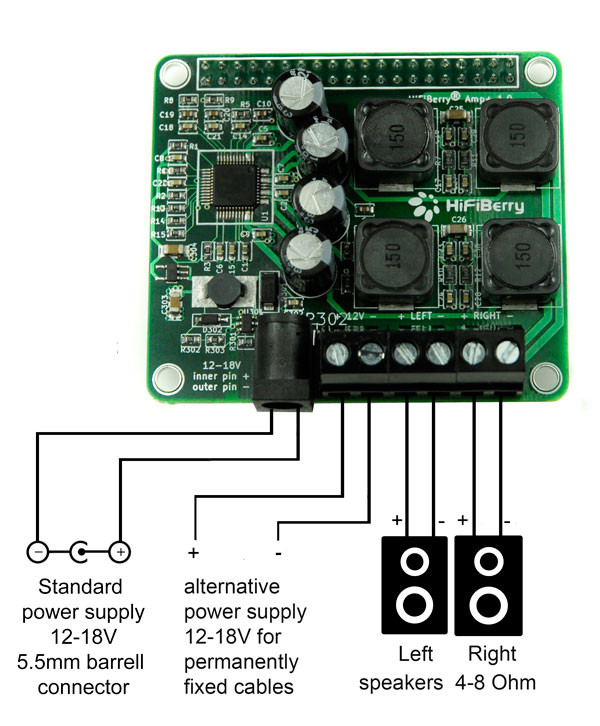 Samo prijavljeni korisnici koji su kupili ovaj proizvod mogu ostaviti komentar.