POE (Power over Ethernet) HAT (B) za Raspberry Pi 3B+/4B i 802.3af + ventilator
2,490.00 RSD (Sa PDV-om)
1 na zalihama
Opis
SKU: 18014
Part Number: PoE HAT (B)
Brand: Waveshare
Power Over Ethernet HAT (Type B) For Raspberry Pi 3B+/4B, 802.3af Power-Sourcing Equipment Required
Power Over Ethernet HAT For Raspberry Pi 3B+/4B, 802.3af-Compliant
(Any Backward-Compatible Future Versions Will Be Supported As Well)
OLED for real-time monitoring temperature, IP, and fan status 
The PoE HAT (B) is a 802.3af-compliant Power Over Ethernet accessory for the Raspberry Pi 3B+/4B. By using this small HAT and some proper 802.3af-compliant power sourcing equipments, it is possible to provide both network connection and power supply for your Raspberry Pi in only one Ethernet cable.
Features At A Glance
Standard Raspberry Pi 40PIN GPIO header, supports Raspberry Pi 3B+/4B
PoE (Power Over Ethernet) capability,802.3af-compliant
Fully isolated switched-mode power supply (SMPS)
0.91″ OLED, for monitoring processor temperature, IP address, and fan status in real-time
Onboard cooling fan, allows auto running on powerup OR programmable control, configured by switch
Integrates PCF8574 IO expander for I2C bus, providing pin P0 for directly fan control, and more spare IO pins
Specifications
| | | | |
| --- | --- | --- | --- |
| POE POWER INPUT | 37V ~ 57V DC in | OLED SIZE | 0.91″ |
| POE POWER OUTPUT | 5V 2.5A DC out | OLED PIXELS | 128×32 |
| NETWORK STANDARD | 802.3af PoE | OLED DRIVER | SSD1306 |
| DIMENSIONS | 56.5 × 65mm | OLED DISPLAY COLOR | white |
For Use With Raspberry Pi 3B+/4B
Standard Raspberry Pi 40PIN GPIO Stackable Header, Allows Connecting Other HATs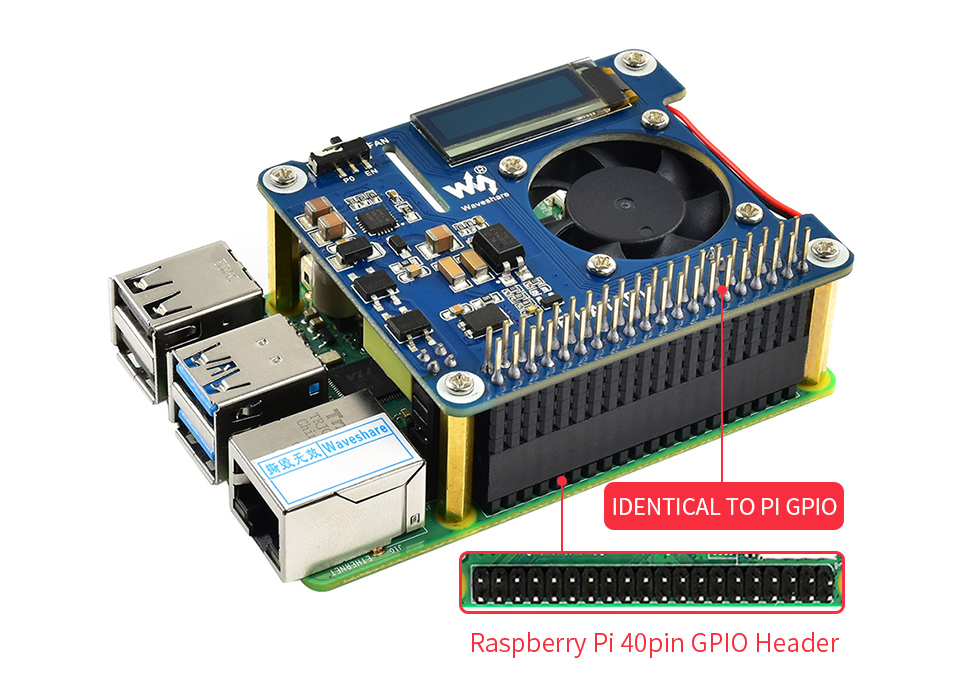 Power Over Ethernet
Providing Both Network Connection And Power Supply For Your Raspberry Pi In One Cable
* proper 802.3af-compliant power sourcing equipment is required
0.91″ OLED Display
128 × 32 Pixels, I2C-Bus Controlled
Monitoring Processor Temperature, IP Address, Fan Status In Real-Time
Cooling Fan
Allows Auto Running On Powerup OR Programmable Control, Configured By Switch
Automatically Turn On/Off Depending On The Raspberry Pi Processor Temperature
Onboard PCF8574 Chip
PCF8574 IO Expander For I2C Bus, Providing 8 IO Pins, Of Which P0 For Fan Control
And Extra Spare Pins On Solder Pads (P1-P7, INT)
Pinout Definition
Outline Dimensions
Resources & Services


PACKAGE CONTENT
---
Deklaracija
Šifra: w18014
Naziv: POE za Raspberry Pi
Vrsta: Waveshare
Zemlja porekla: Kina
Zemlja uvoza: Kina
Uvoznik: MALINA 314 doo, Beograd
telefon: 061-640-2013
Samo prijavljeni korisnici koji su kupili ovaj proizvod mogu ostaviti komentar.
Možda će vam se svideti …